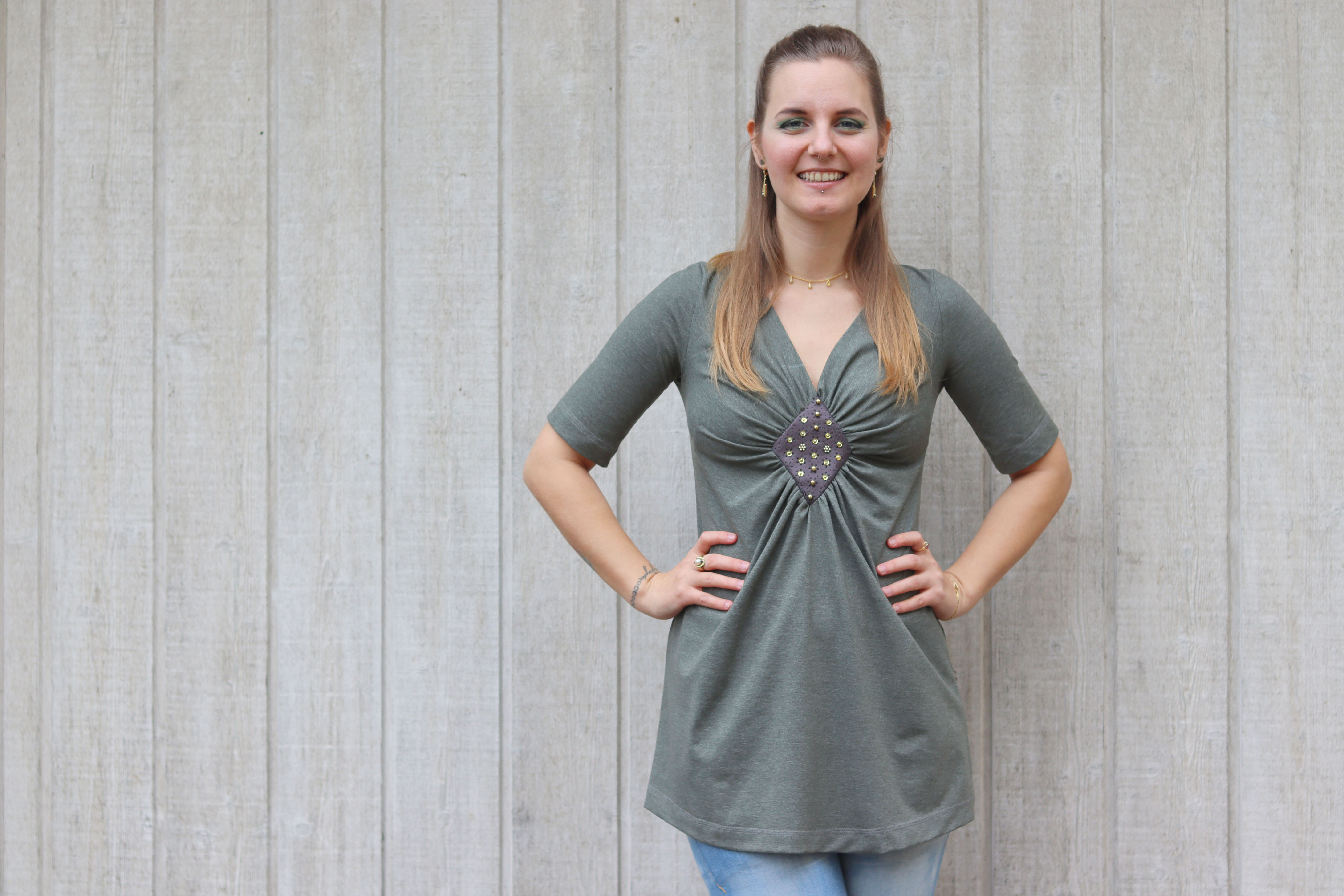 My mom has something similar hanging in the closet for many years and for a long time I thought that this is "suitable for their generation" but certainly not for me. Well as you can clearly see I changed my mind and eventually sewed myself a shirt in this style this week.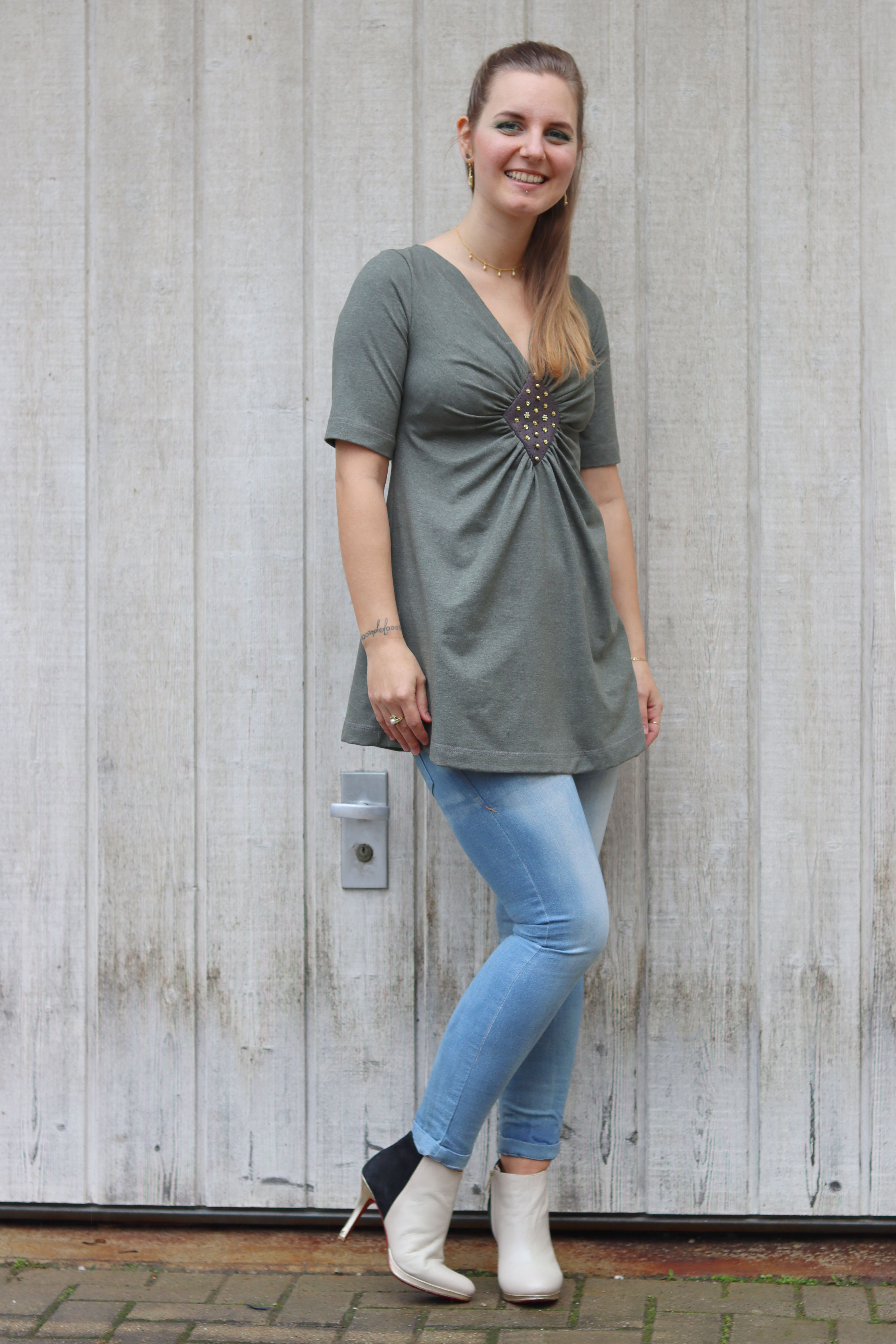 The boho shirt makes a great figure with the high waist, tunic length and loosely flared towards the hem. The neckline is pretty but subtly emphasized and mom says it's a super belly hiding pattern. I covered the diamond in the center with a piece of perforated faux leather and then sewed lots of beads and sequins on it by hand. Since I was super meticulous about the pattern on the leather when I cut it, I was able to use it directly as a placement template for my beads.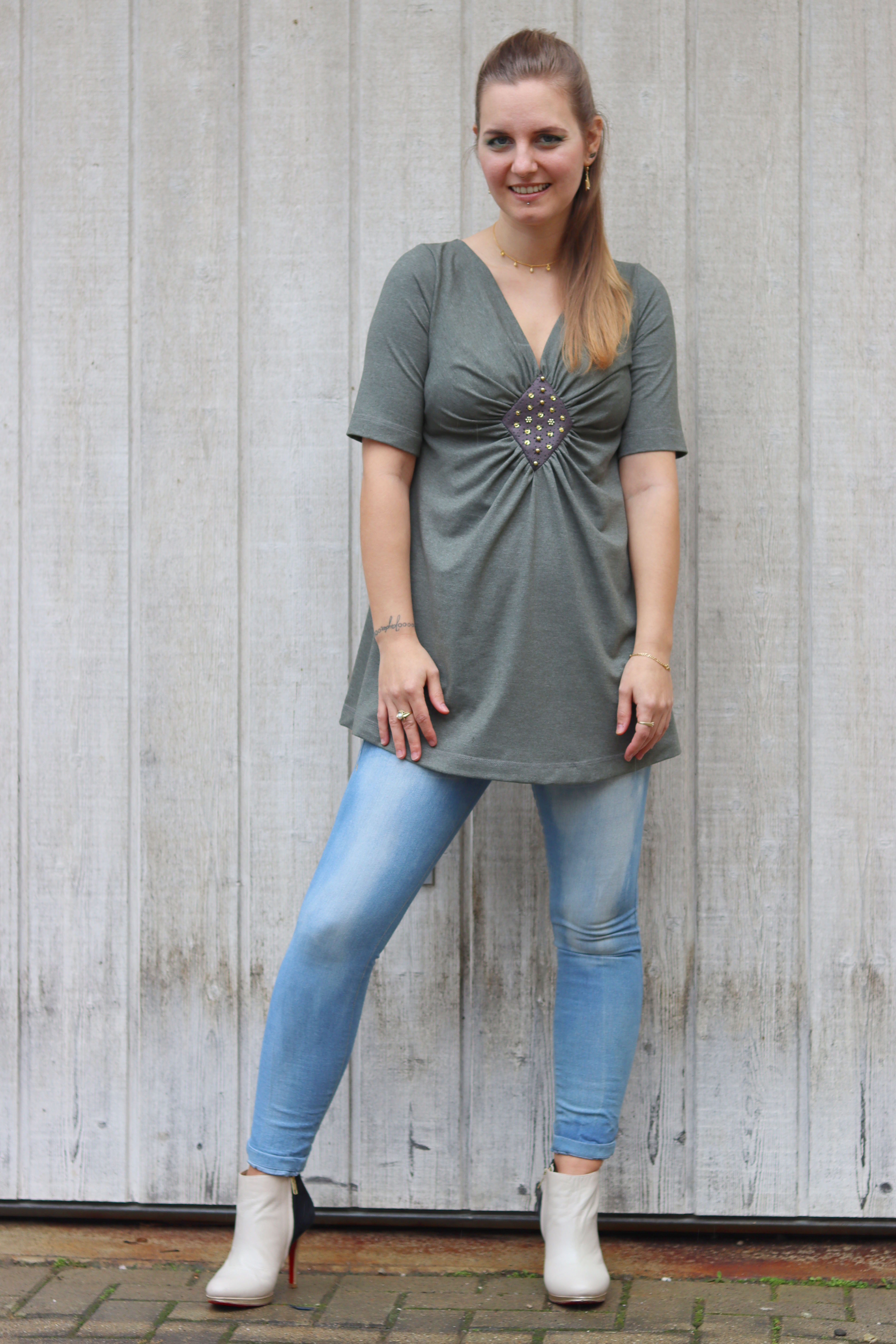 When taking photos it rained, as it did the whole day. So that Dad and especially the camera do not get wet, my boyfriend has dutifully placed himself with an umbrella next to it and ensured that the electronics did not get wet. My shirt and I didn't care about the rain, you can't even see it on the pictures. But we have certainly looked pretty funny for outsiders, as we stood there in front of the garage door for taking pictures 😉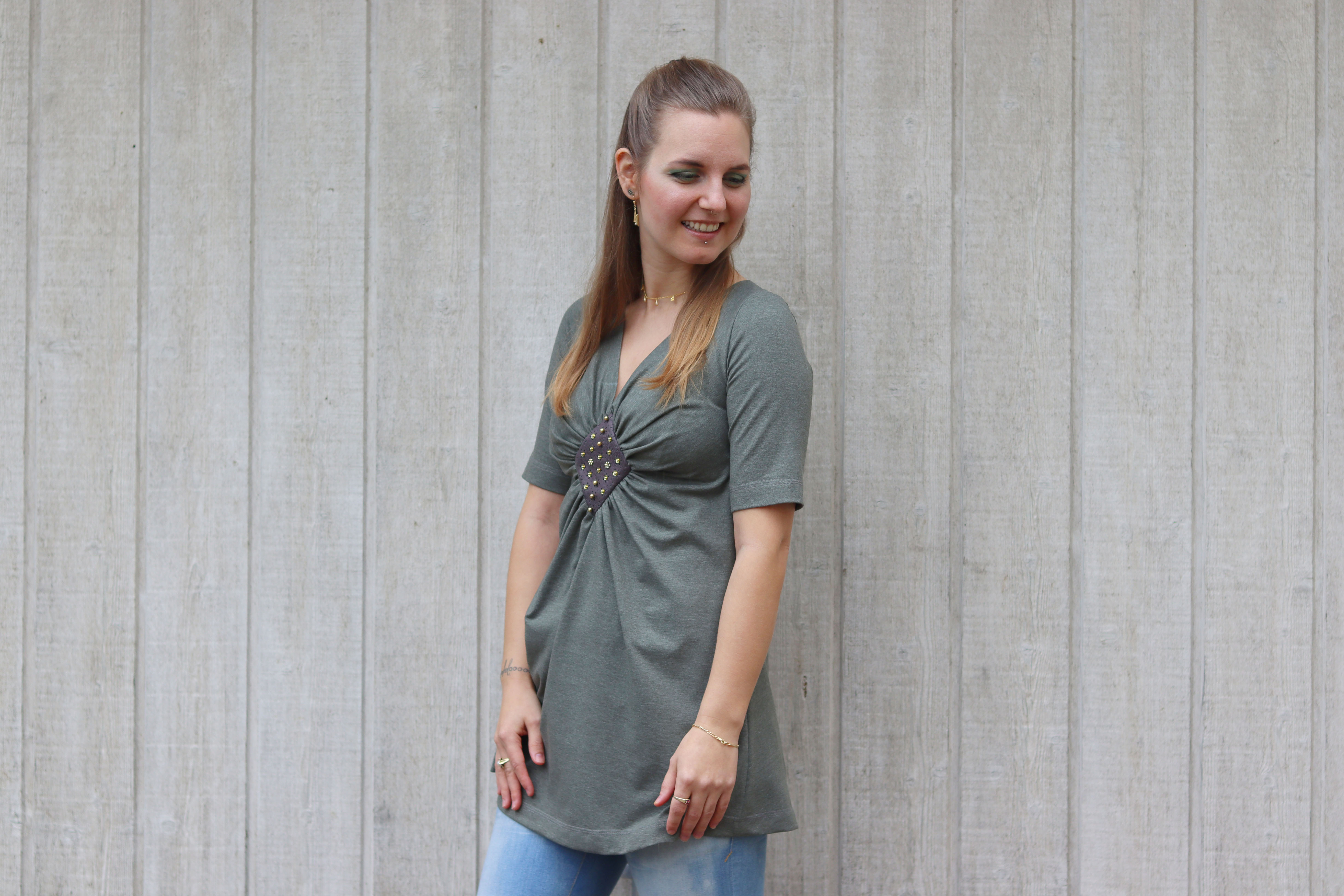 You are already used to it, if I show you a new pattern it is because I would like to let you test it. In my regular team has already diligently discussed what you could still add and what other options I should make. So here is the most important summarized:
Women's tunic in sizes 32 – 50 / US 2 – 20
Tunic length but with possibility to maxi dress or shortened as shirt
Regular fit and second front part with already integrated FBA
Optional insert in neckline to show less skin
Main part sewn with jersey
2 sleeve variations, one in jersey and one in woven fabric for airy summer fabrics
4 different sleeve lengths or sleeveless
A4, US Letter, A0 and projector file
Start from 8. February, submission of pictures on 23. February
Application directly here on the blog as a comment, on Facebook or Instagram as a comment under the corresponding posts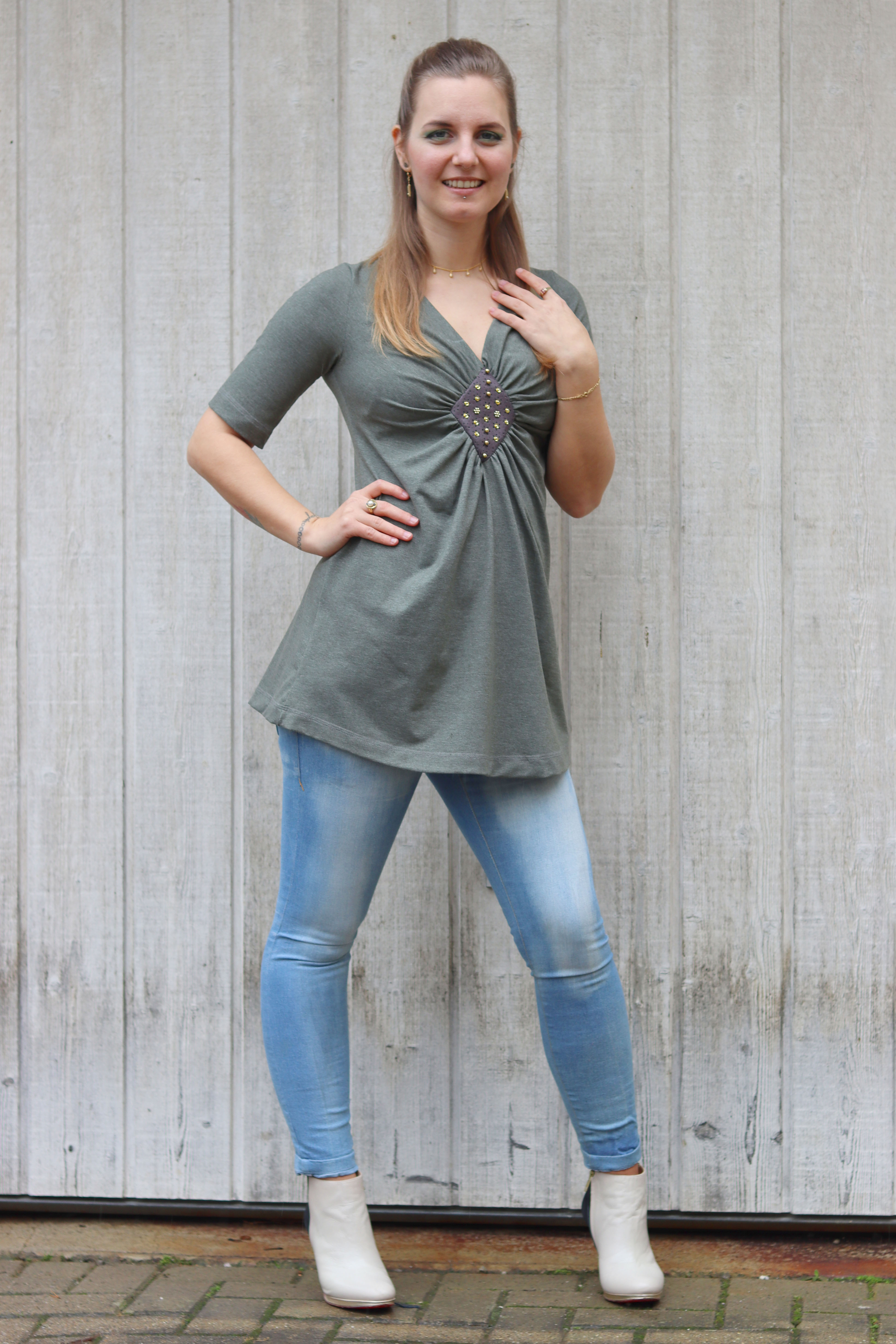 Next I want to sew myself a maxi dress for the summer! But now I'm just curious to hear what you say to my Boho Shirt and whether one or the other already wants to equip their wardrobe for spring / summer. Or a cheerful, light winter shirt.
Love, Carina
:-*
Sewing pattern shirt: Boho Shirt – coming soon
Sewing pattern pants: Skinnyjeans by Sewera
Shoes: DiamondHeels
Photos: Papa
https://sewerafashion.com/wp-content/uploads/2021/02/BohoShirtSewera.jpg
3804
5707
Carina Sewera
/wp-content/uploads/2016/06/sewerafashionlogo.png
Carina Sewera
2021-02-04 09:41:13
2021-02-04 09:53:18
Fake leather and embroidery on a shirt