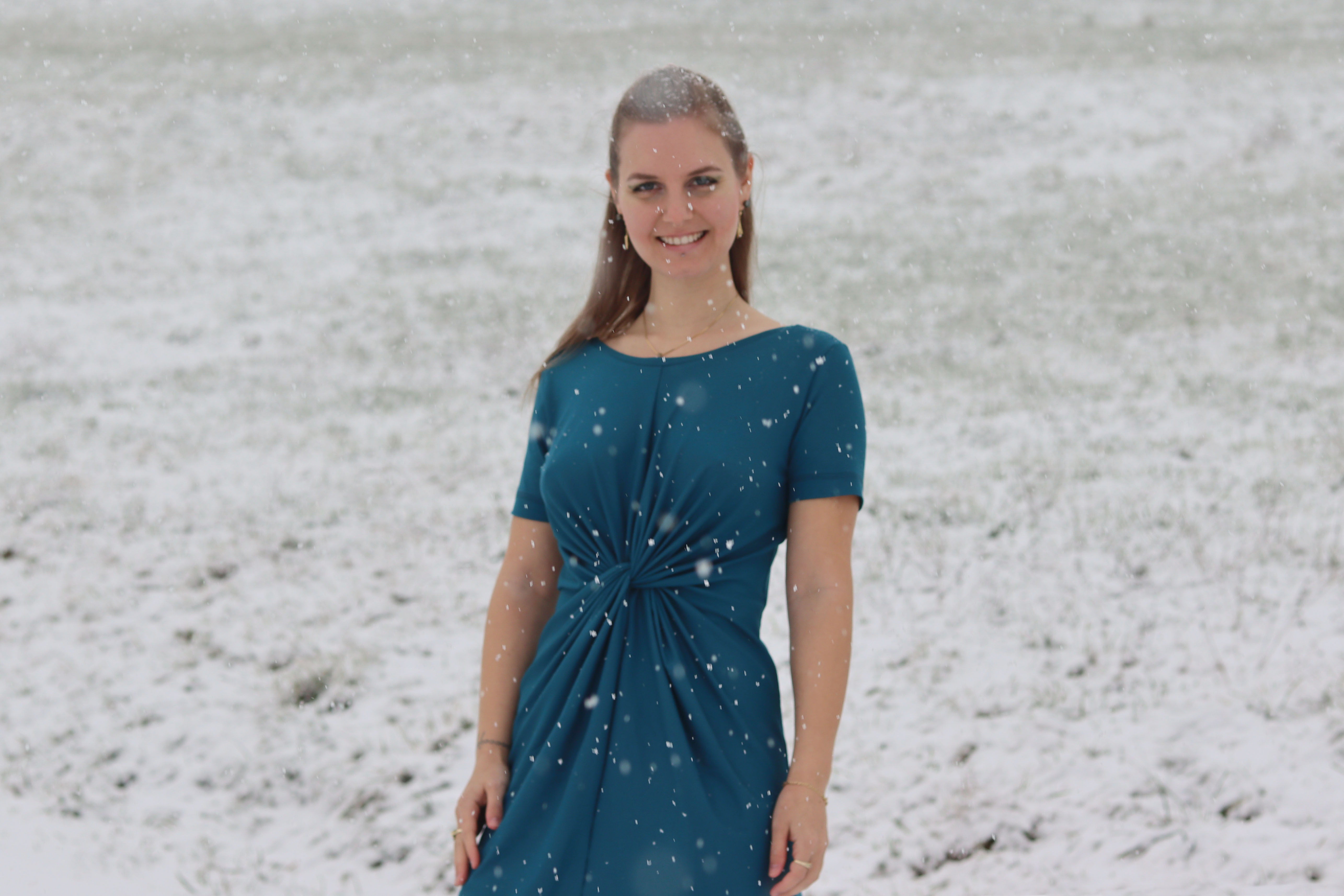 Who stands in the snow at below freezing point in a short, thin summer dress? Exactly – ME! But my latest work I just had to photograph immediately to share it with you <3
The family just shook their heads and confirmed once again that I'm supposed to be really crazy. But they should know that by now, after all, they know me long enough. Okay, but they also know that I do not like snow, winter and everything that has to do with it at all.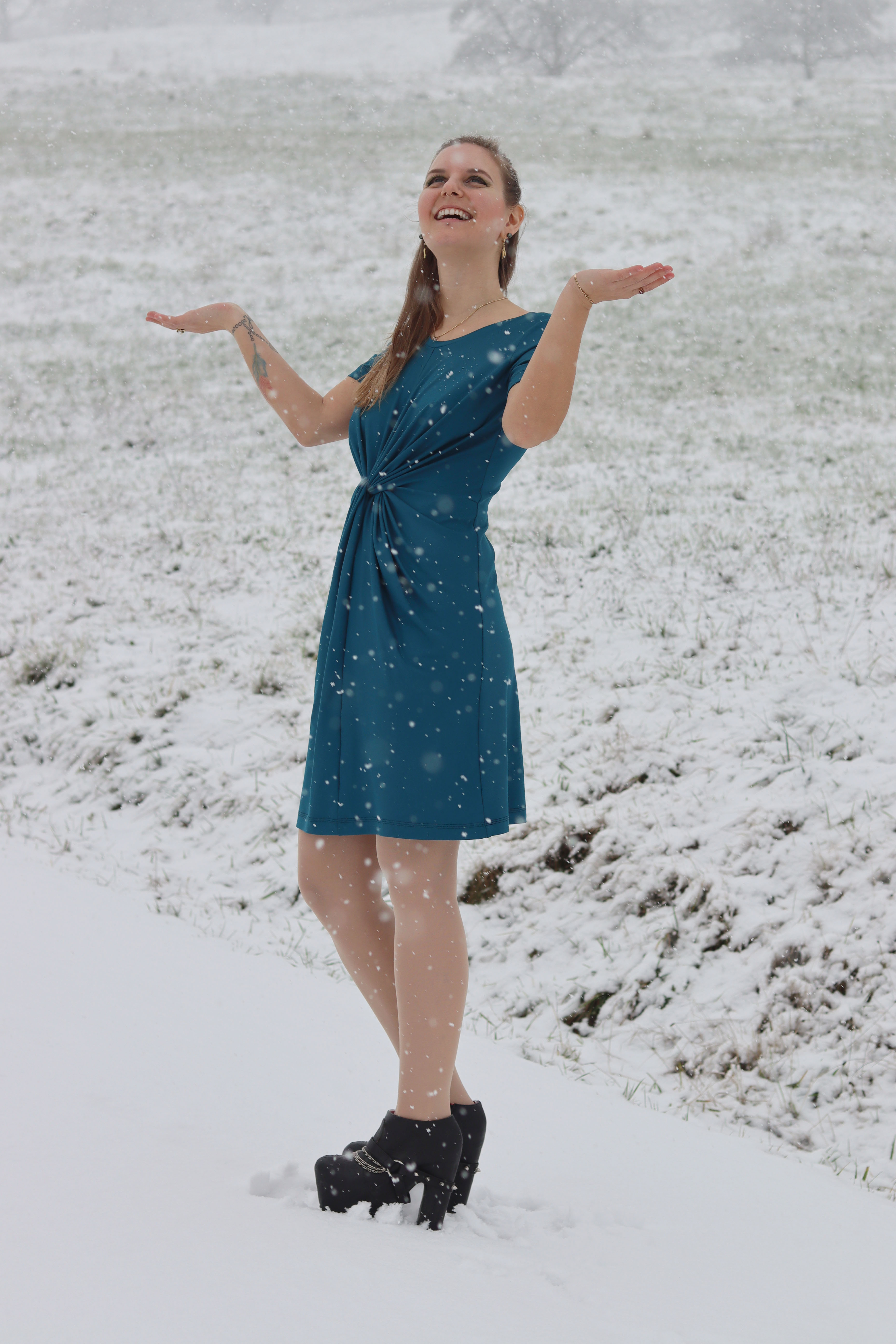 I already wanted to make a pattern in this style last year or even the year before and never got around to it. Now I've finally made it and am absolutely thrilled! The pattern has already a great fit in the first attempt exactly as I wanted it. Work is more fun this way 😀 And you know what's even better about it?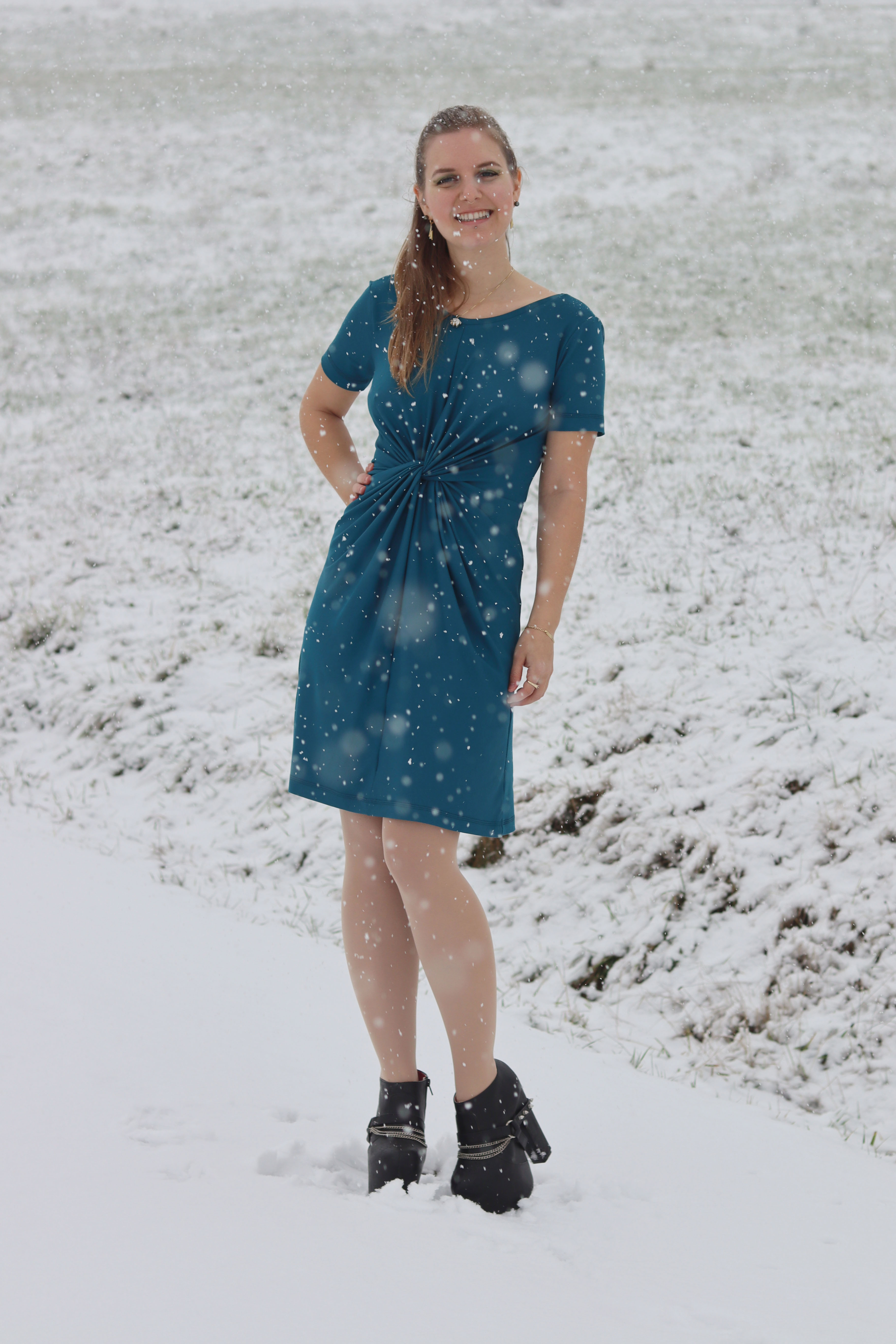 Of course I would like to share the Twisted Dress with you and therefore there it is as the second January pattern. It is sewn super fast (including cutting I only needed about an hour) and although it looks very special, it is totally easy to sew. Of course, it is also available with long sleeves, as with most of the Sewera patterns.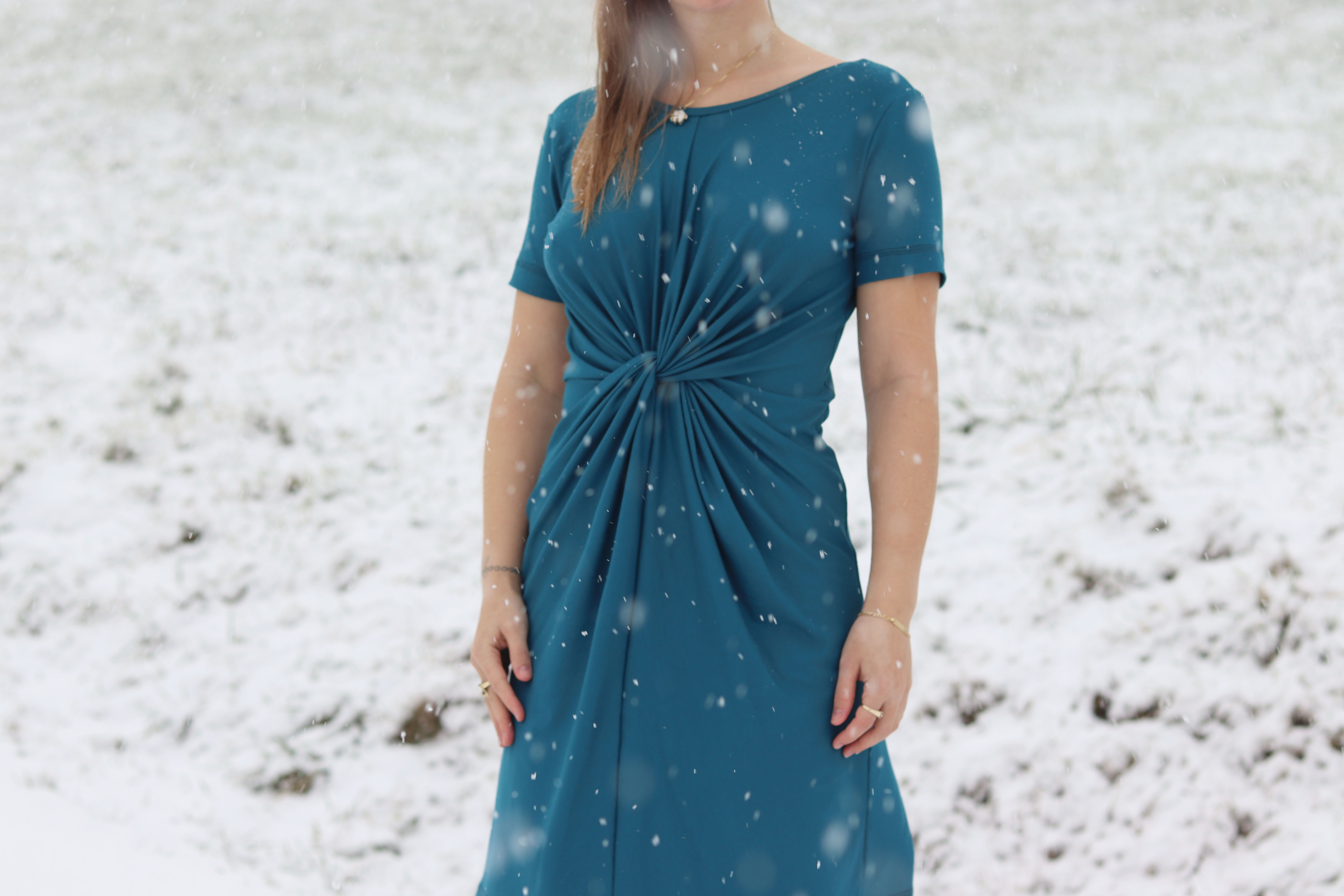 So here comes already the first tester call in this year, the Twisted Dress would like to be available very quickly for as many sewing girls as possible. Here is all the important info:
Women's dress in sizes 32 – 50 / US 2 – 20
Suitable fabrics: rather thin, soft-falling knit fabrics
4 different sleeve lengths
2 different back necklines
2 different front necklines
Straight hem and with rounded slit in front
Start of testing: Sunday, January 10 – picture submission on Tuesday, January 26
Patterns in US Letter, A4, A0 and an extra large beamer file each with layers
Does this sound good to you? Then I'm very happy to receive your application either here on the blog or on Facebook or Instagram with a comment. Please be sure to include your page so I can contact you!
And last but not least, here's an outtake: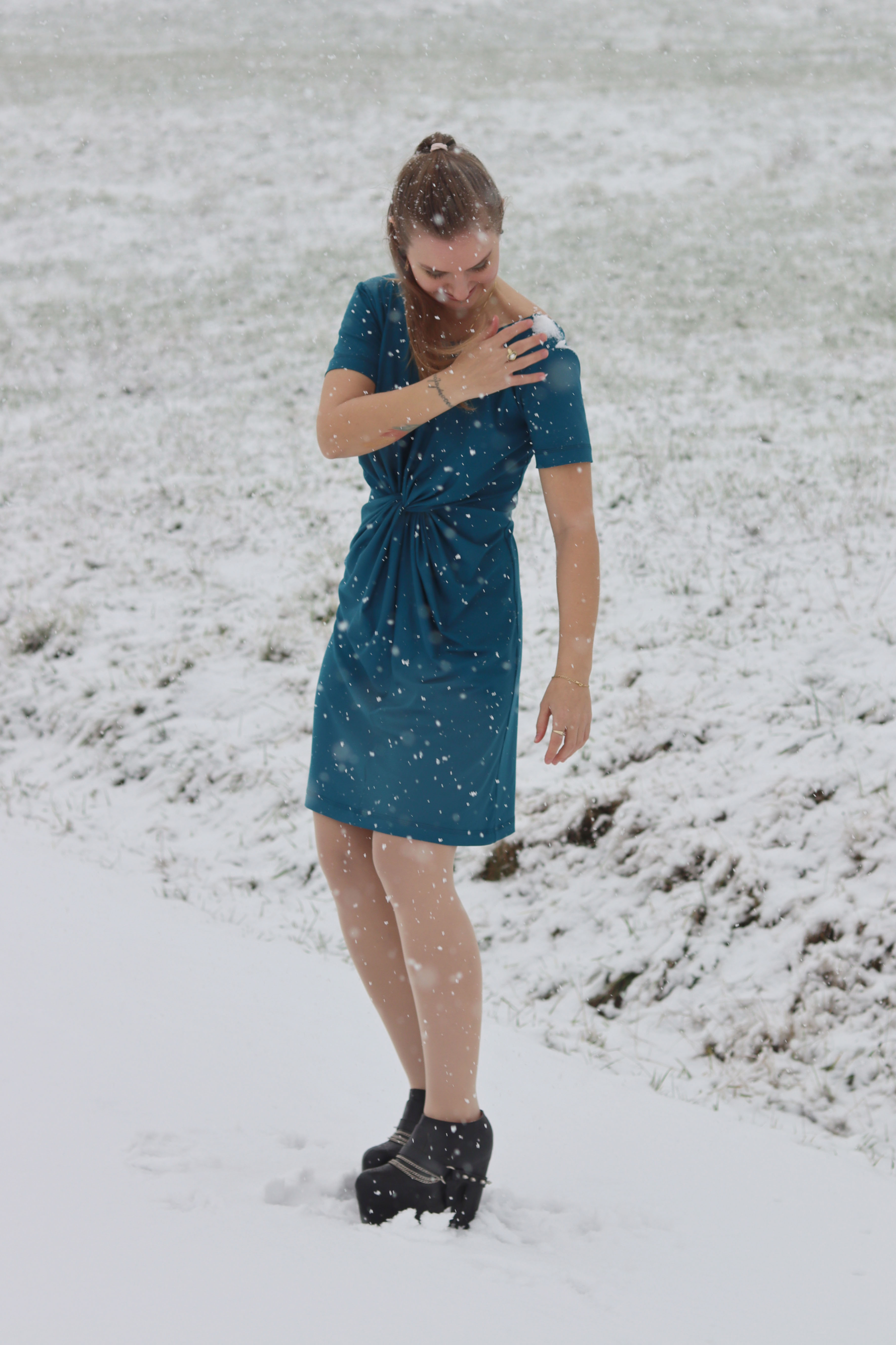 That was the moment when I said "Dad let me just wipe the snow off my shoulders". The snow is super great for photos, but rather when it is already lying – the snowfall itself made taking pictures rather difficult. But it was funny somehow and honestly: I was really not cold! Simply having some warm thoughts, imagining how nice it is with my family in the southern hemisphere and then it's ok 😉
And while we're gonna hear Heidi say "I'm sorry, I have no picture for you today" on TV again, I can at least smile about the girls who are complaining because they're cold. Been there – done that. Only without whining.
Love, Carina
:-*
Sewing pattern: Twisted Dress – coming soon
Photos: Papa
Dieser Beitrag is auch erhältlich in: German
https://sewerafashion.com/wp-content/uploads/2021/01/twisteddressbysewera.jpg
3429
5142
Carina Sewera
/wp-content/uploads/2016/06/sewerafashionlogo.png
Carina Sewera
2021-01-07 09:55:29
2021-01-07 09:55:29
Summer dress in the snow – the Twisted Dress