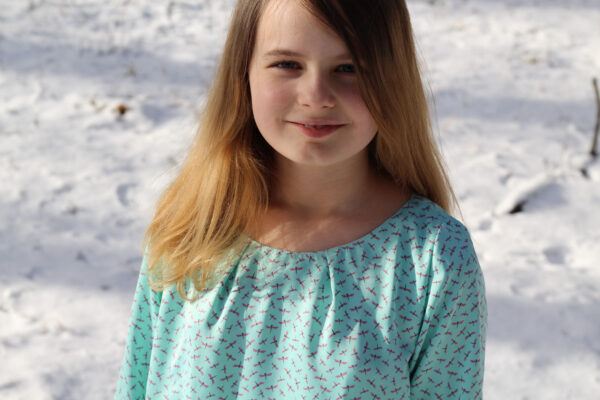 Well, isn't she adorable – my daughter? Sure, that's what every mother says about her children 😉 From time to time my daughter gets some new clothes from me and then it's time for a photo shoot. And because there was so much snow outside, we had to get out in spite of the cold!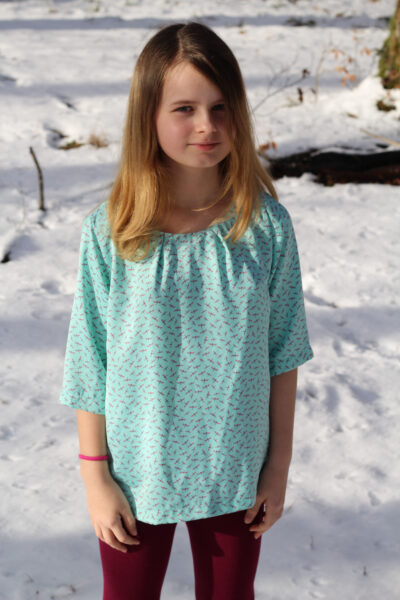 This dragonfly fabric has been in my stash for a long time. Originally I planned it for a blouse for myself. But after I had him in my hands I knew the blouse would never been worn and only collect dust in my closet. And the fabric is way too nice for that! I still think it's really pretty, only the colour doesn't suit me. Lucky for the daughter, so she could claim it for herself 😉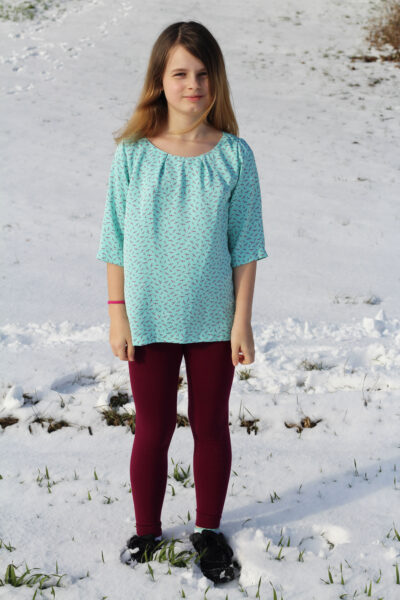 Yes it was really cold, but that only hardens her immune system and of course she wasn't forced or bribed – as a young 'misses Sewera' you do such things voluntarily <3 And she is really growing, slowly getting older even if I still find it much too early. She was just my little girl. Now she stands there like a model and I am totally happy about the new pretty photos. The fabric was ironed, by the way. With emphasis on 'was' 😉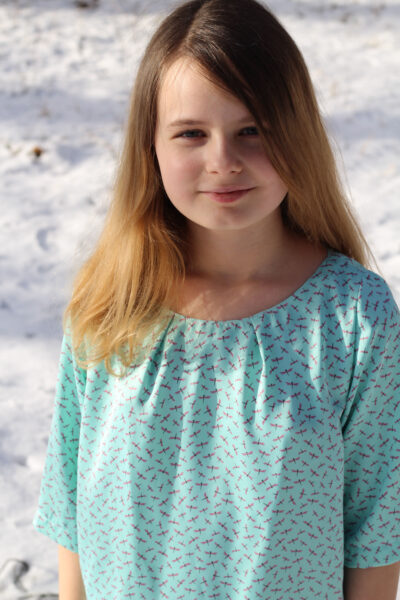 I also really like the pattern very much, the pleats at the neckline look really nice, but not too much romantic. Simple but elegant is the motto here. And I hope that the child doesn't grow anymore for a while now, so that she gets something out of it for as long as possible. She doesn't even want to take off her Posh Blouse Girls anymore! I see that as a compliment.
From now on you can also get the pattern for this enchanting children's blouse, because it appeared a few hours ago!
I wish you a lot of fun with it,
love, Carina
Sewing pattern blouse: Posh Blouse Girls by Sewera
Fabric Blouse: Schnittverhext
Photos taken by: muckelie
Dieser Beitrag is auch erhältlich in: German
https://sewerafashion.com/wp-content/uploads/2019/01/fireflyblouse.jpg
3456
5184
Carina Sewera
/wp-content/uploads/2016/06/sewerafashionlogo.png
Carina Sewera
2019-02-02 12:18:17
2019-02-02 12:18:17
Posh Blouse Girls with dragonflies