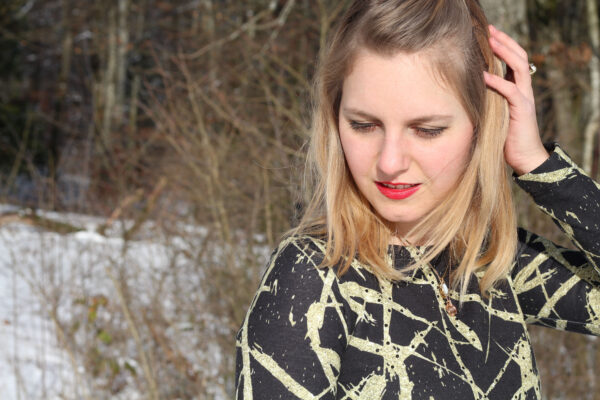 Every year it comes again, the day of roses, of lovers and lots of kitsch. Actually not something I like at all, but if I have a reason to sew a new dress… Yes then I like even such a day 😉 And how great that just today the new pattern 'Love Dress' goes online. The perfect pattern for the perfect Valentine's Day dress.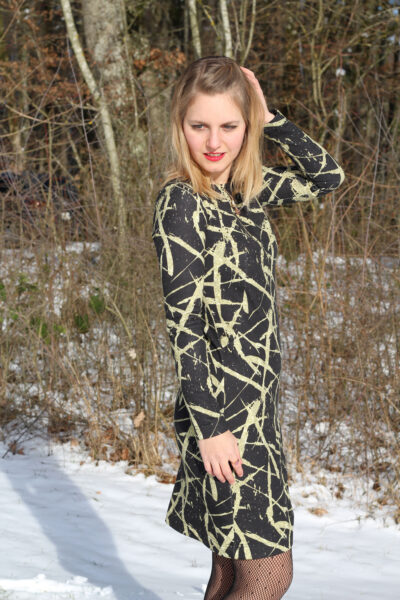 Well, actually everything was supposed to be different. The dress had been planned since the middle of December. I had also ordered enough fabric to sew great partner outfits. But it all turned out different.. My supposed to be Mr. Right had other plans and dumped me at the beginning of January. So there was all the more fabric left for me. Or more so for my mom (she got a great X – dress) and my daughter (for her there was a Co-Z Dress Kids).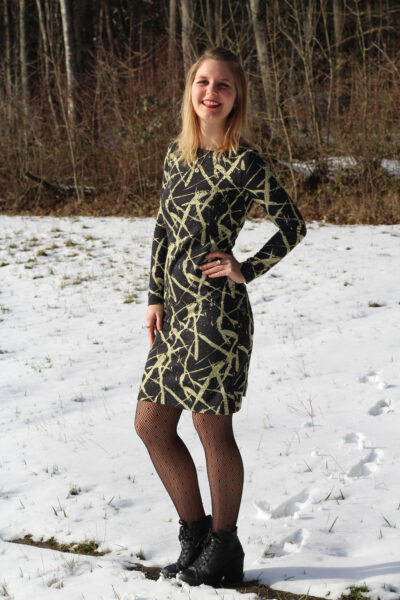 Well, the Valentin's date thing didn't work out then – but I'm taking my daughter to the cinema tonight. I find this a more than worthy replacement <3 Such a mummy – daughter evening is also simply worth gold.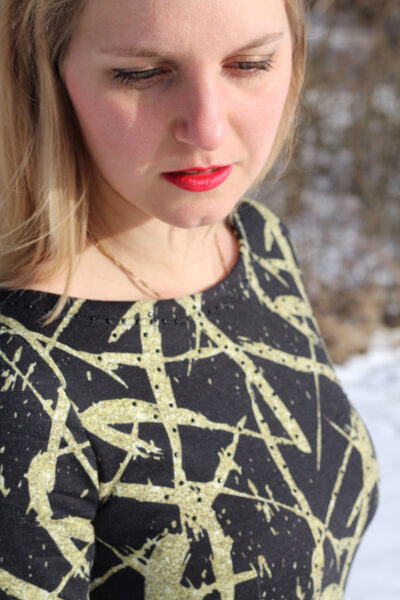 Talking about Gold: The Squiggle here is also from the Winter-Gold Edition, I already showed you the same fabric in white a few weeks ago. I was sooo blown away by the fabric that I also had to order it in black. Again I decorated the stripes with countless hotfix stones to make it glitter even more. This time the stones are black, matching the basic color of the fabric.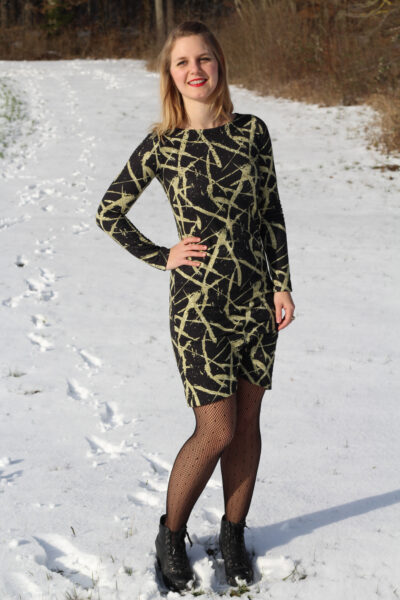 The snow was a great contrast to the dress for the pictures, unfortunately it is long gone again. Not that I like snow itself, but on photos it just looks very pretty 😉 By the way, under the dotted tights I still wear some skin-coloured ones, so I was surprisingly warm! But the dress also fits the body very well, mainly because of the curved bust darts, which make the whole pattern so special.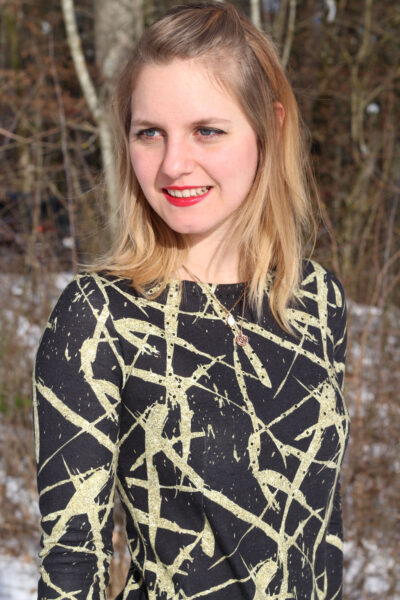 To make sure that you can soon go out on the street in such a great dress too (or to the office or to a delicious dinner or to the next party…), you can buy the pattern now. This time it was really tested to the limit, 90 design examples were made during the testing! I would say that speaks for itself, wouldn't it? 😉
Love, Carina
<3
Sewing pattern dress: Love Dress by Sewera (now on sale!)
Fabric: Squiggle by Nipnaps
Photos: by muckelie
Tights: DotTights
To be seen at: SewLala, DufürDichamDonnerstag, TheCreativeLovers
Dieser Beitrag is auch erhältlich in: German
https://sewerafashion.com/wp-content/uploads/2019/02/glitterdresshotfixstones.jpg
3456
5184
Carina Sewera
/wp-content/uploads/2016/06/sewerafashionlogo.png
Carina Sewera
2019-02-14 09:48:42
2019-02-14 09:48:42
My Love Dress for valentine's day