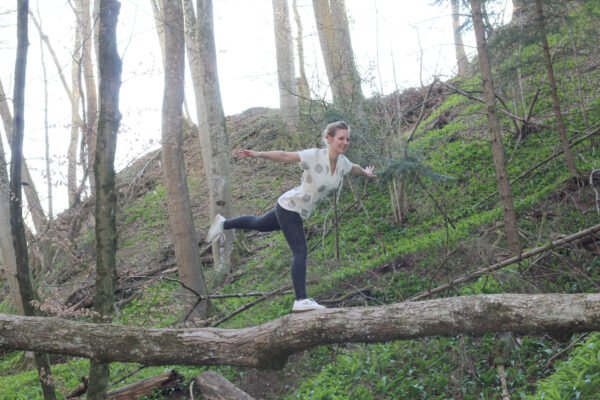 Oh let me tell you – today's photos demanded a lot from me! But hey, I recently discovered a little piece of paradise and my new Co-Z T-Shirt just had to be photographed in the woods… 😉
I sewed the whole thing out of a linen knit fabric with huge glitter dots which I got from Schnittverhext.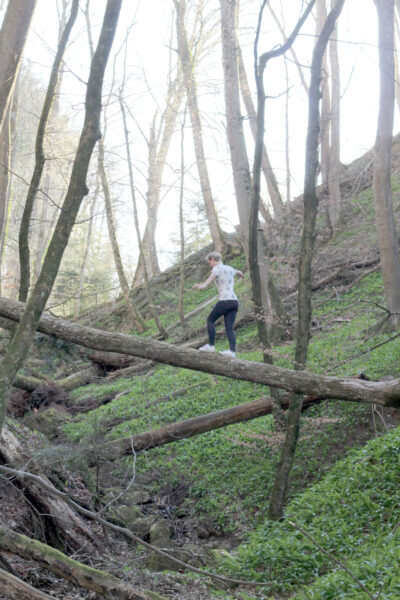 The Co-Z hoodie was exactly that until yesterday – a hoodie. But from now on the pattern contains more sleeve lengths to make it suitable all year round. Just like here with my new short-sleeved shirt. Okay I admit, you don't see so much of the outfit on the picture, but therefore the 3-4m that goes down under the tree trunk into the very rocky stream bed. It was a bit shaky, but I always liked to climb trees as a child and built bridges over the creek behind the house. So that's still in my blood. In contrast to dolls and other 'typical girl stuff', which I hated as a child.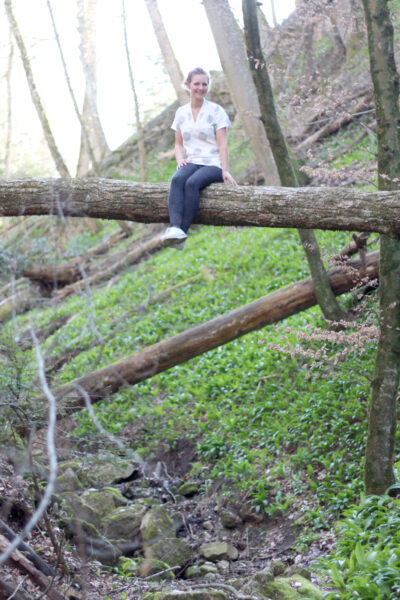 Talking about kids… Mine had much joy behind the camera yesterday and took quite a lot of photos. I think she likes 'my' new favourite forest very much. Oh and what else do you see? White shoes. In the forest. In the mud. But hey, they are still white 😉 And it had to be them, because they fit so beautifully to the shirt. I'm not as crazy as to climb up there with high heels. That would be too dangerous even for me. Just like I don't let my kids up there, at least not as long as there is no safety.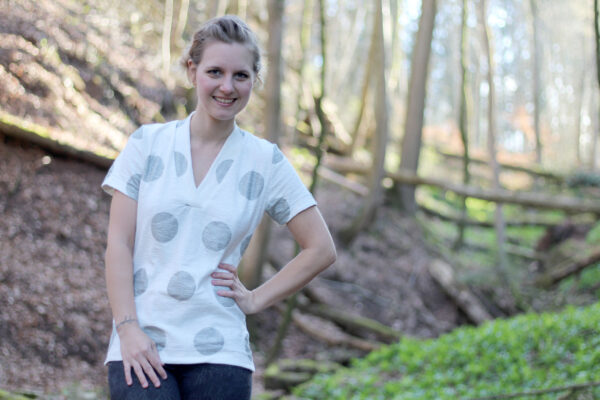 But now back to talking about fashion: The fabric is – as already mentioned above – a linen knit, here it is special that the dots are printed on the left side of the fabric. This lets you turn the fabric around as you like when sewing it together, so that the right side of the fabric is on the outside and the dots only shine through discreetly. I have already seen both variants in different shapes when buying clothes, so it's a matter of taste here. I think, if the dots already glitter so nice, then one should see them also really well! Because of this, I decided to sew the fabric together with the wrong sides on the outside.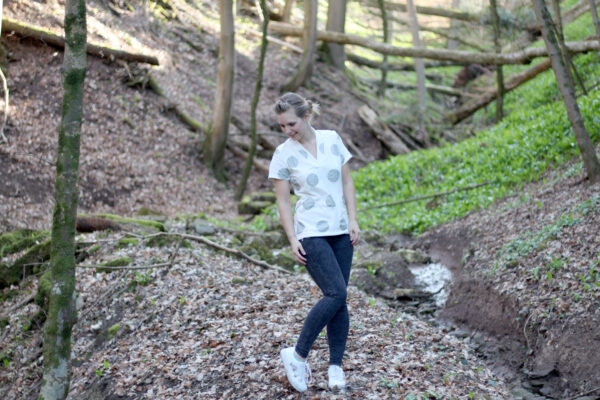 With this shirt I decided for the collar neckline, a hood would give the whole something more sporty, but I was not looking for that. The neckline is sewn with a wide cuff, which is also cut out of the shirt fabric. Even though the Co-Z pattern is not new, I still like the neckline very much, just because it is a bit different. The first time you make it might be a little tricky, but as soon as you get the hang of how and where you have to sew through, you get a great eye-catcher in no time at all.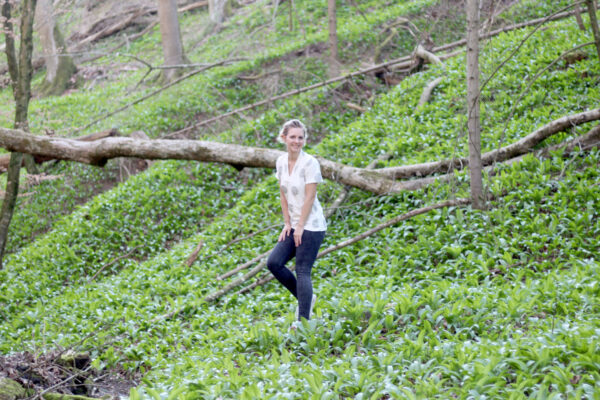 Because we are literally sinking into bear's garlic here, I have a picture for you in the middle of one of the many oceans of leaves. And the pattern is available over the weekend at half price, as #PatternoftheWeek. I'm looking forward to breathing a little more life into the design again, as it's pretty timeless in my eyes and can be done in so many different ways.
Love, Carina
:-*
Sewing pattern shirt: Co-Z women by Sewera
Sewing pattern pants: Skinnyjeans by Sewera
Fabric shirt: sponsored by Schnittverhext
Photos by: daughter
Linkparties: SewLala, DufürDichamDonnerstag
Dieser Beitrag is auch erhältlich in: German
https://sewerafashion.com/wp-content/uploads/2016/04/standwaageaufumgefallenembaum.jpg
3456
5184
Carina Sewera
/wp-content/uploads/2016/06/sewerafashionlogo.png
Carina Sewera
2019-03-28 15:41:49
2019-03-28 15:41:49
Glittering up the forrest – linen knit with glitter dots