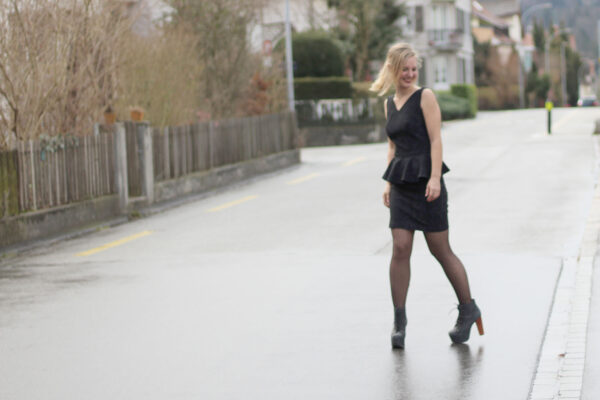 I don't know how many of them are already hanging in my closet, but one more is always possible. And one more… 😉 Seriously, the little black one always fits! It belongs definitely to my absolute favorites, no matter which pattern and which fabric. As long as it's black, tight and short.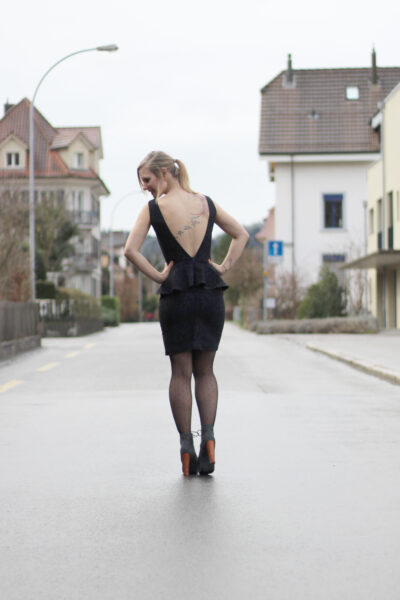 Or as in this case here: with a very deep back! Yes I have done it again, but I also like backless extremely. After the requests for a peplum arose during sample sewing, I also had to sew one, of course. At first I wasn't so sure if it fits me at all. But now on the finished dress I like it really very much <3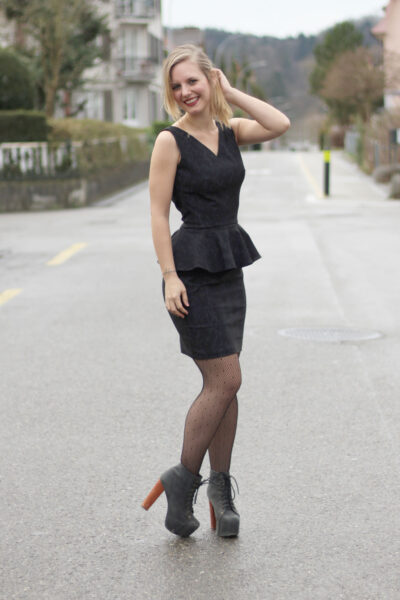 It looks so feminine to me and since I am rather flat, I can use every rounding well (in the right places of course most of all 😛 ). A stretch Bengaline was used as fabric here. It's elastic lengthwise but the pattern is also printed crosswise, so I just turned the pieces 90 degrees. The very fine grey print is so discreetly unobtrusive from far away, but from very close it really looks good!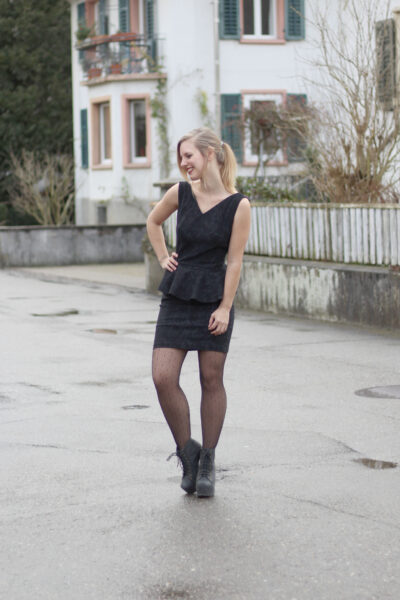 How good it is that I still have a few more meters of it, I will still make jeans and a skirt and mummy has already thrown an eye on it as well 😉
For the photos here we were really lucky, in the morning it rained again and again (see puddles), but around noon it was very friendly and even quite warm. So we went straight out and took advantage of the light.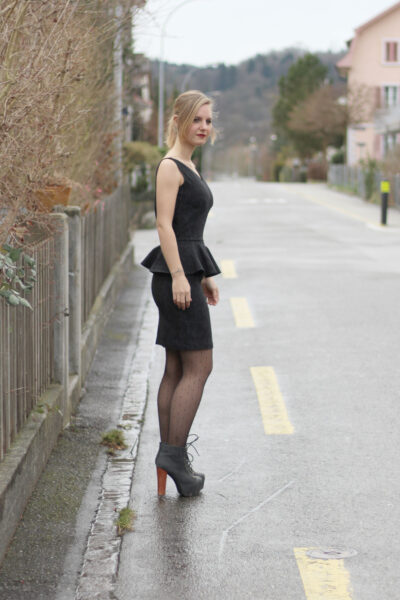 Again I was able to persuade Romy, a mom from our homeschool room, to take some pictures – she is doing really well behind the camera and I am totally happy with the pictures. A different background does some good for once 😉 The funny thing is: We're right next to a school here – you should have seen the looks of the occasional students who walked by (all so nice pubescent..) *snicker*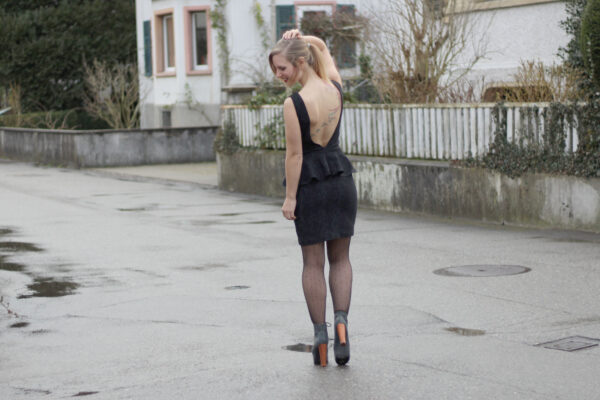 After the complete failure of the social media yesterday, my nerves were also pretty exhausted. How am I supposed to get in touch with my sample sewers without being able to contact them and upload all the pictures to the e-book? Now with a lot of good persuasion it worked out very slowly and the Y-Dress is online. You can now also sew yourself a copy, or even a few? I have 5 pieces so far and there will definitely be more! The fabrics are already screaming to be sewn 😛
But attention: The Y-Dress is not for absolute beginners, it requires some adjustments if you don't correspond exactly to the measurement table. Just like with all pattern for close fitting woven fabrics – but that's why we sew to not wear the uniform mush in oversize, but to see what it really fits well 😉
And now happy shopping – until and including Monday the Y-Dress is available on sale for only half price <3
Love, Carina
:-*
Sewing pattern: Y-Dress by Sewera
Fabric: found in my stash
Photos: Romy
Shoes: Jeffrey Campbell
Dieser Beitrag is auch erhältlich in: German
https://sewerafashion.com/wp-content/uploads/2019/03/ydressschnittmusterkleid.jpg
2514
3771
Carina Sewera
/wp-content/uploads/2016/06/sewerafashionlogo.png
Carina Sewera
2019-03-14 11:22:30
2019-03-14 11:22:30
Little black dress