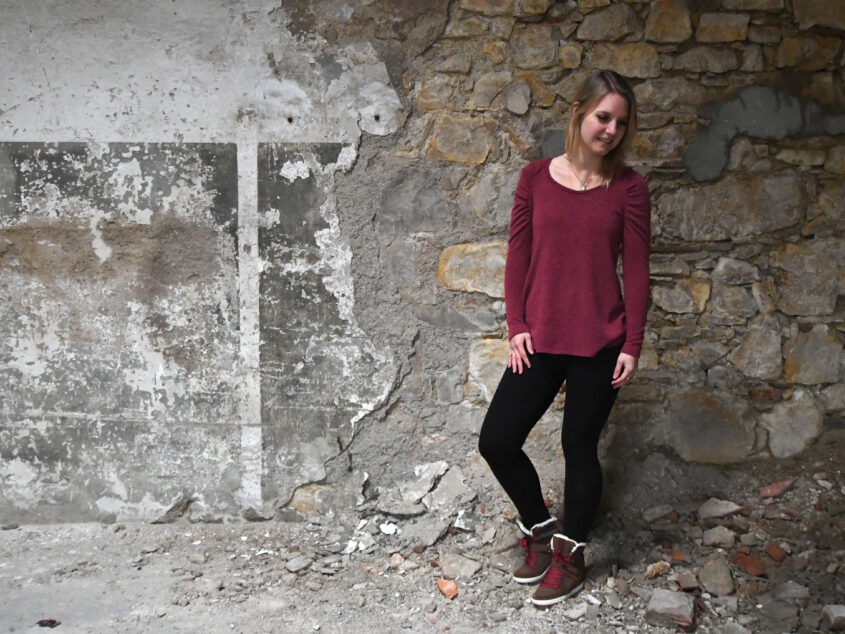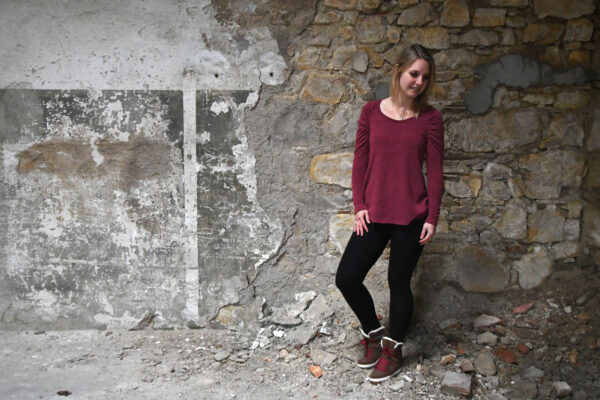 It is just before Christmas and in house Sewera, we're working under high pressure. So much was planned for the Advent season that only now I get to show you the new shirt. The Feel Free Raglan is – as the name suggests – another Raglan shirt. It has gathered sleeves, is loosely cut from the chest down and has among other things a rounded hem.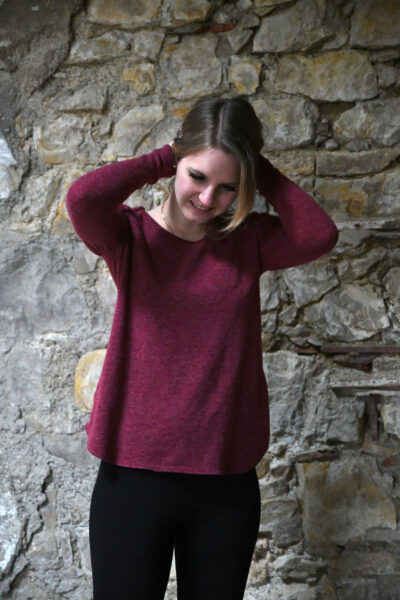 When I drew the first sketch for it last spring, I thought it would be more of a pattern for my mom and I will probably wear it less. And guess who has to sew one or two of the shirts for herself in the few next days? 😉
The design was created within the framework of the Sewunity Advent calendar. There we were already asked many months ago whether we would like to participate. Just as early we had to have a design ready and indicate what it would be. Accordingly, the e-book has been finished for quite a while now. Only I was late with the photos again, i had some for the design examples but these here were taken only this week. *coughing*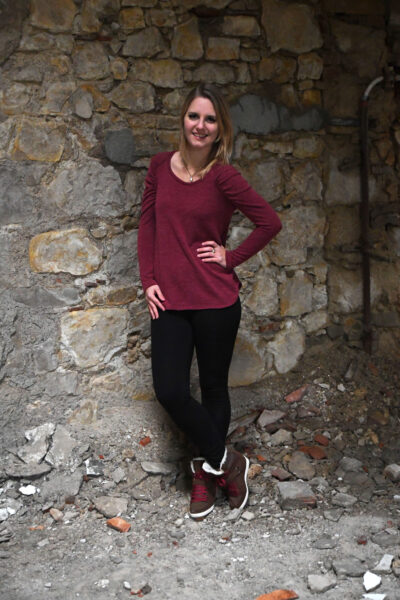 After I noticed at my party last weekend that two dear friends meet for photos in my favourite location, I immediately joined them. As you can see, I wear 'only' a leggings to my shirt for once, when I usually wear it only for sports or under a dress. I also wanted to tell you why. It is rather still a taboo topic. But since there are so many places where they are broken lately, I wanted to give my thoughts to one of them 😉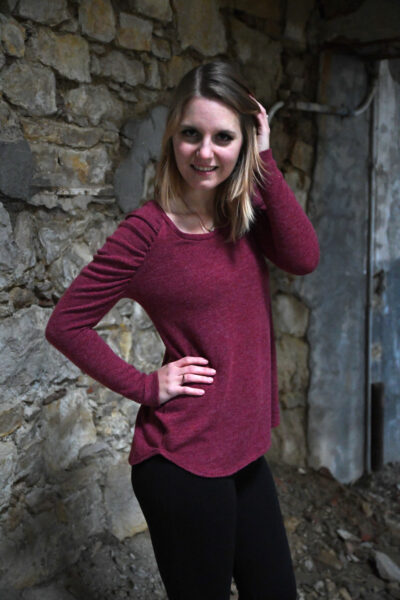 I'm talking hairs. Not the one on the head. For a little more than a year now I have been going to a very dear lady for sugaring. Because even if the nobody except my boyfriend sees this spot – FOR ME it is important that the pubic area is free of it. Because then I feel better. I know, you're only supposed to talk about it with good friends, but why actually? It concerns all of us. Sure, it's not equally important to everyone, but it's important to me. For years I have cursed, always managed to get small wounds from it.. Sugaring is painful – that's right. But it lasts for some time. And it lasts longer and hurts less after a few months. Or you simply get used to the pain by going there every few weeks. Since I had such an appointment again in the morning before the photos, you see me there now also in the leggings. Because jeans – as comfortable as they are – don't get close to leggings. Something pinches too fast. And even if I always hold on to the saying 'if you want to be pretty, you have to suffer', comfort more important to me, the older I get. Therefore today to the Feel Free Raglan for my conditions quite atypically a Sporty Leggings in addition. Because between you and me: At home I almost only walk around with it anyway 😉
Do you also have such favourite pieces for beauty days or any quirks that are not normally reported on in public? Let's get rid of such taboo topics together and tell your stories!
Love, Carina
:-*
Sewing pattern shirt: Feel Free Raglan 
Sewing pattern pants: Sporty Leggings
Photos by: Wartenweiler Fotografie
Linked to: SewLala, Du für Dich am Donnerstag
Dieser Beitrag is auch erhältlich in: German
https://sewerafashion.com/wp-content/uploads/2018/12/WomenfashionWinter2018.jpg
3421
5132
Carina Sewera
/wp-content/uploads/2016/06/sewerafashionlogo.png
Carina Sewera
2018-12-20 10:09:28
2018-12-20 10:09:28
Feel Free Raglan Shirt