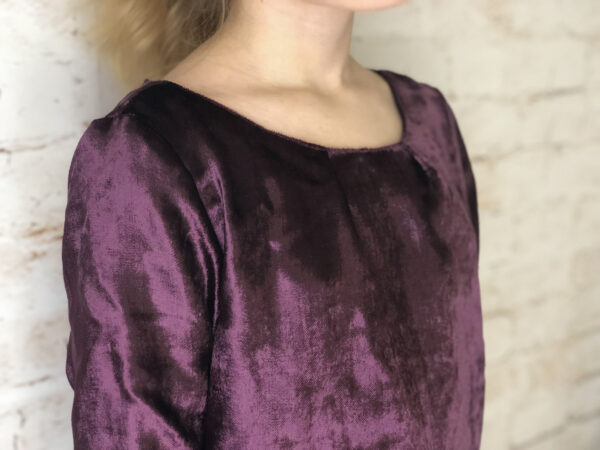 Kids blouse
My children have both grown very quickly lately, and by the time I had finished a few things, they were almost too short again. Nevertheless, there are still self sewn clothes and I hope that I can catch up again. At least until the next growth spurt comes. In today's project it was the daughter's turn. Something elegant is missing in her wardrobe at the moment, mostly it will be very fast sweaters and comfortable trousers that I sew her (or she sews herself sometimes…).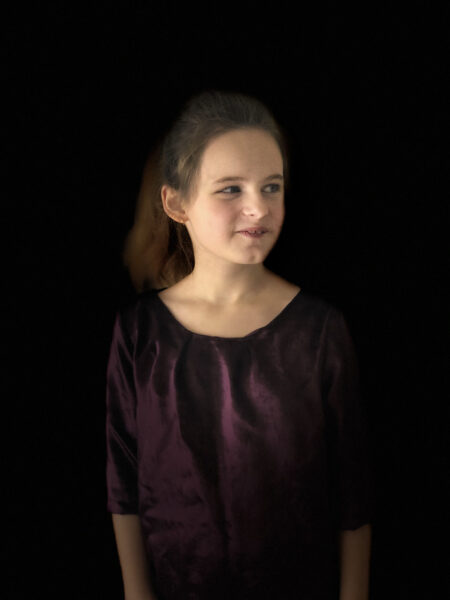 I know, I used to say I didn't do children patterns anymore. But if you don't find what you want but do really badly want to sew it…. What do you do then? Exactly, the design the Posh Blouse for girls.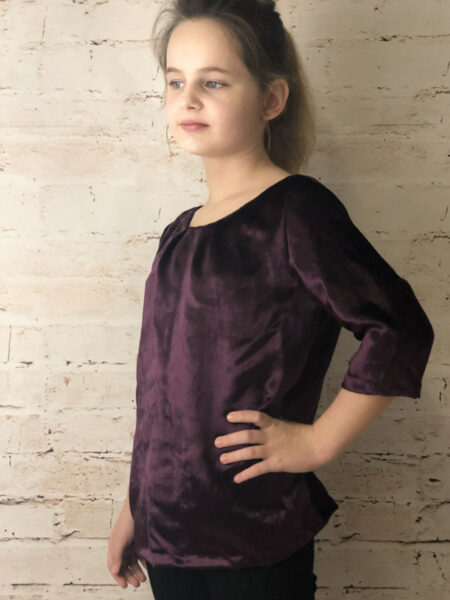 The blouse comes exactly like the one for ladies with pleats at the neckline and different sleeve lengths. Only the bust darts are missing 😉 It is sewn from soft flowing woven fabrics, like this non-elastic velvet.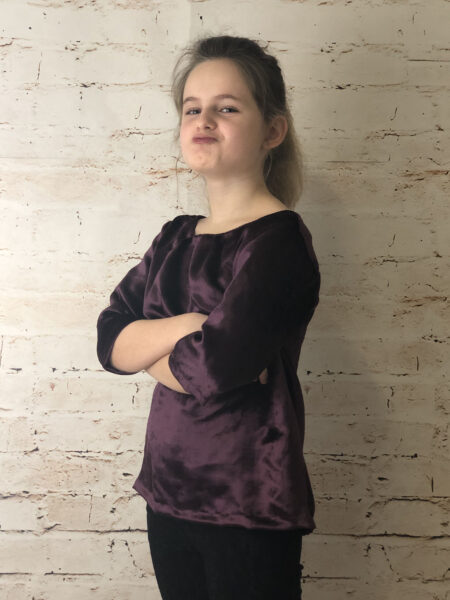 Taking photos is always a challenge for us, on the one hand I feel more comfortable in front of the camera than behind it and on the other hand I have the ambition that the photos will still be great. To relax the child a bit I told her to make a grimace. The picture was created in the process. Well, this is how I see her every few days anyway 😉 But most of the time we are really a great team. Except if I want to give her hair some volume. And of course she agreed to show the picture here. After that we could laugh about it.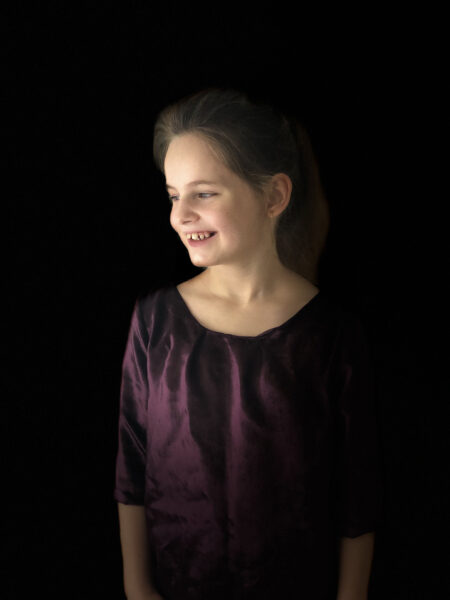 The new filters on my phone are great, by the way, you don't even need to edit the photos anymore *smile*.
But now to the main topic of the post: Yes, the pattern should be tested! And I am looking for some volunteers to support me.
Patterns in sizes 110 – 152 (child's height in centemeters)
Photos with child, but face may be nicely hidden (with hat, mask, detail…)
Planned publication on 31 January – Feedback & photos must be submitted before this date
Nice people who help each other and apply in complete sentences
Have I aroused your interest and you have a child at home to whom you would like to sew a simple but elegant blouse? Then apply now here under this post or on Facebook or Instagram with a link to your page, the size you want to sew and why I should take you.
I'm looking forward to seeing you!
Love, Carina
<3
Sewing pattern blouse: Posh Blouse Girls (coming soon)
Fabric: Stoffdepot
Dieser Beitrag is auch erhältlich in: German
https://sewerafashion.com/wp-content/uploads/2019/01/KinderblusemitFalten.jpg
3024
4032
Carina Sewera
/wp-content/uploads/2016/06/sewerafashionlogo.png
Carina Sewera
2019-01-10 11:31:00
2019-01-10 15:59:19
Velvet blouse for my daughter