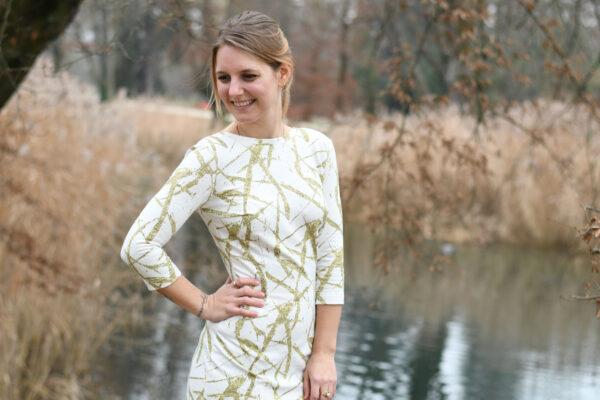 It's so unusually bright. No, unfortunately not outside. But my dress is. You could almost think I look innocent *smile*. Okay, I don't think so. But I think it's elegant. But maybe it's more because of the golden stripes and less the white underground?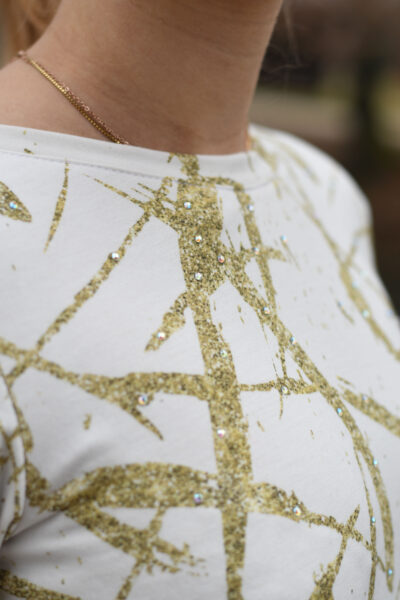 Since the winter edition of the Squiggles from Nipnaps has a slight 'blingbling effect' by nature, it inspired me to spice it up a bit. They are used far too seldom, my Hotfix stones. But here they just fit perfectly. The fabric was predestined to glitter a bit more. I didn't count the stones, but it took me a while to fix them all.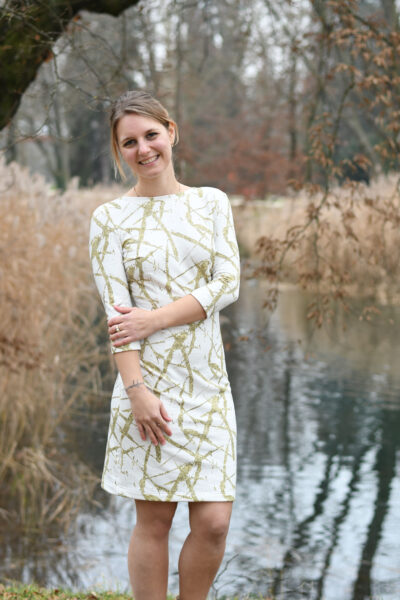 You can't see them from a distance, but when the light shines in the right angle, they reflect the light and it glitters and sparkles <3 The WOW effect comes out more and more the closer you get to my dress. I particularly like that when it looks simple, but there's a lot behind it. And you only see that at second glance…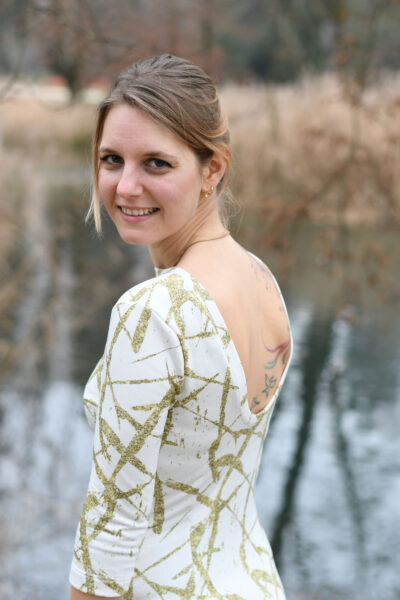 One of the reasons why I like the winter dress so much and sew it over and over again. From the front it looks simple and elegant, only from the back you can see the sexy deep back neckline. I don't know exactly how many of the winter dresses I've sewn in the meantime, but there are some. And there will follow even more!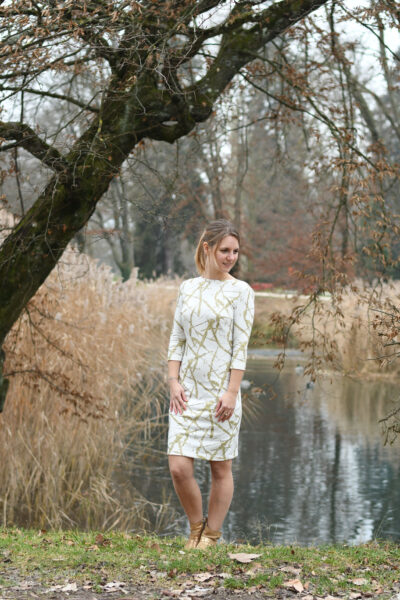 Maybe it can move into your wardrobe soon too? The Winter Dress restarts in the of the #PatternoftheWeek action and is thus reduced from today to Monday by 50%. If that's not a reason to grab it now 😉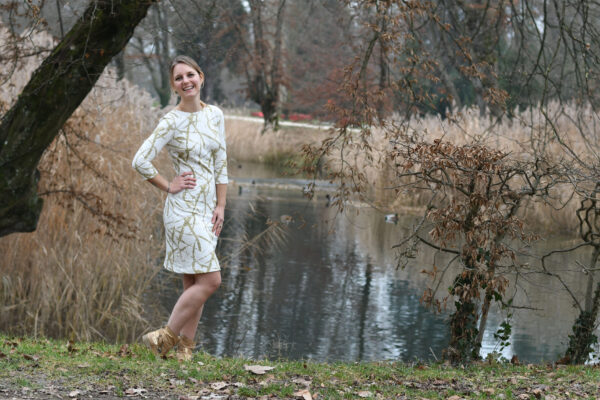 The fabric was a birthday present from my dear Mrs. Nipnaps <3 He feels really great, all cuddly and is also something good for the environment. It consists of 60% recycled fibres! I like to advertise for it, apart from the fact that I think the Squiggle is really great and I had to add more colors. Soon you will see even more, apart from the Co-Z Men which I already sewed in the yellow version in autumn. You see, the pattern really impressed me!
But now back to work, there are more patterns that would like to be finished and a lot of sample sewers waiting for a selection.
Love, Carina
:-*
Sewing pattern Dress: Winter Dress by Sewera
Fabric sponsored by: Nipnaps
Photos made by: Wartenweiler Fotografie
Linkparties: SewLala & Du für Dich am Donnerstag
Dieser Beitrag is auch erhältlich in: German
https://sewerafashion.com/wp-content/uploads/2019/01/happygoldengirl.jpg
3712
5568
Carina Sewera
/wp-content/uploads/2016/06/sewerafashionlogo.png
Carina Sewera
2019-01-24 09:38:09
2019-01-24 09:38:09
Squiggle Winter Dress